Leather jacket and jeans was what Junaid Jamshed wore when Vital Signs burst through the charts in a country recovering from the baton swinging dictatorship of Zia-ul-Haq in 1988.
Good looks, good vocals, and fresh sound turned them into overnight idols for everyone from that era, filling the gaping void for pop culture icons. Their songs were on the radio, on TV, in Pakistan and other parts of the world; each one commercially and critically lauded.
Their entrance was what gave a huge number of singers enough confidence and motivation to follow in their footsteps. Ali Haider, Sajjad Ali, and even the stars of today like Ali Zafar all mention Vital Signs' influence on them.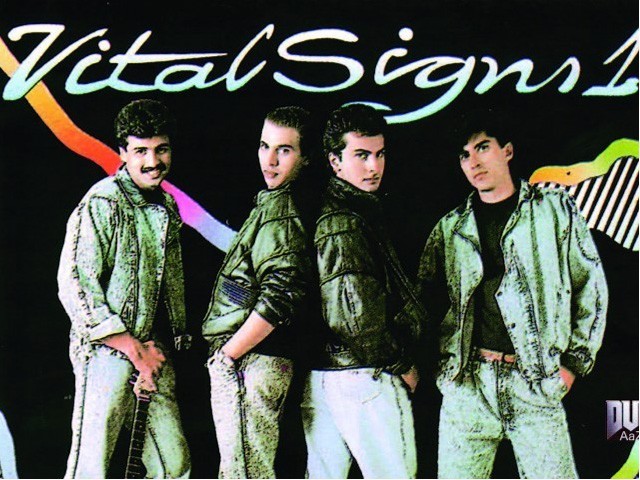 With over 6 million followers on Facebook alone, Junaid Jamshed the singer, fashion designer, sometimes actor, TV presenter, song writer, and televangelist had fans in some form or the other. In 2014, he had even made it to the list of the World's 500 Most Influential Muslims (in the arts and culture category – Royal Islamic Strategic Center, Jordan)
Born on September 3, Junaid Jamshed had a dream of becoming a fighter pilot in the Pakistan Air Force, but due to poor eyesight, he was unable to. After graduating from University of Engineering and Technology, Lahore in Mechanical Engineering, he managed to get a job as a Civilian Contractor (with a little helping nudge from his father) and then move on to aeronautical engineering in PAF in 1990.
It was however in 1987, when Junaid joined his Peshawar University's rock Music band called Nuts and Bolts as lead singer, when he got noticed by Rohail Hyatt, Nusrat Hussain and Shahzad Hasan. They had been looking for a singer for their newly formed band Vital Signs. His performance at the Flashman's Hotel in Rawalpindi gave them what they were looking for – everything that a bona fide front man required.
Junaid officially joined Vital Signs and signed a record deal with Producer Shoaib Mansoor.
This is when the still-playing and still-popular song to date Dil Dil Pakistan was released. A song that is played every time Pakistan is mentioned in all parts of the world, a song perhaps even more popular than Pakistan's own National song. A song that every Pakistani has sung or hummed at least once in his life.
In fact in 2003, BBC World Service conducted a poll for the most popular songs. In a whopping 7,000 songs selected from all over, Dil Dil Pakistan was ranked at number 3.
Then came another huge hit Tum Mil Gaye.
Hit after hit, after their first album Vital Signs 1, came Vital Signs 2 (with EMI Pakistan) and then Aitebaar (again with Shoaib Mansoor). This is when they had their first international tour to the US. This is also the time Junaid Jamshed signed his acting contract with PTV for a television miniseries called Dhundlay Raaste.
After album number 4 Hum Tum, and a solo album by Junaid, Tumhara Aur Mera Naam, the band eventually split up due to differences in 1996. Shahzad Hasan left for the US, Hyatt formed Coke Studio and Junaid Jamshed concentrated on just being a solo artist. As expected, he was a huge commercial success even on his own.
His second album, Us Rah Par was in fact the year's biggest selling album with hits like:
-Us Rah Par
-Na Tu Ayegi
-O Sanama
He wrote each one of them himself. That is how talented he was.
Dil Ki Baat came about in 2001. Junaid Jamshed was everywhere. Everyone was listening to him and trying to look like him.
Then in 2004, he decided to give it all up including his engineering to look for another path for himself.
We lost him and one of his wives a few hours ago in a plane crash that took over 40 lives. But we will always have his music. How he helped develop and boosted Pakistan's rock/pop music industry.
He was the voice of many people's youth. The voice of generations when they struggled to vent or express themselves. A style icon. Many who had not even been born at his time fell in love with his music later.
No matter where he goes, or we do, our hearts like him will always be Dil Dil Pakistan.
I don't hate my past . Though I give that impression . I m Dil Dil Pakistan forever .

— Junaid Jamshed (@JunaidJamshedPK) August 10, 2014