PARACHINAR: Around 21 people have been killed and over 50 are injured in a powerful explosion that ripped through a crowded marketplace in Parachinar Kurram tribal agency, according to officials.
Kurram Agency's political administration has confirmed the death toll and said the injured were shifted to the agency headquarters hospital. There is shortage of doctors and medical facilities in the hospital. The death toll is expected to rise. Dr. Sabir Hussain at the Parachinar main hospital said 11 critically wounded people who were brought from the vegetable market blast site died while being treated. He said several of the wounded were in serious condition and being shifted to other hospitals for better care.
Soon after the incident, the outlawed Tehreek-e-Taliban has claimed responsibility for the blast in Parachinar. "Saifullah alias Bilal carried out the attack in Parachinar on Saturday," TTP spokesperson Muhammad Khorasani said. He further said the blast was in retaliation for killing Lashkar-e-Jhangvi chief Asif Chotu, along with three others in an encounter. It was to avenge the killing of our associates by security forces and to teach a lesson to Shiites for their support for Bashar al-Assad," said the group's spokesman Qari Saifullah, referring to the Syrian president.
Saifullah warned that his Sunni Muslim group will continue attacking Shiites if they back Assad, whose regime is entrenched in a civil war that began in 2011 and has claimed more than 310,000 lives.
The explosion occurred at 8:50AM at the city's Eidgah market, where a large number of people were shopping for fruit and vegetable. An IED that was placed in a vegetable box which blew up.
Shahid Khan, an assistant tribal administrator, said the explosion took place when the market was crowded with retailers buying fruits and vegetables from a wholesale shop. He said the attack was being investigated.
The Inter-Services Public Relations (ISPR), the military's media wing, said '20 shaheed and 30 Injured.Injured being shifted to CMH and LRH Peshawar through Army helicopters. Army and FC troops are under taking relief and rescue operations. It was carried out through an improvised explosive device (IED).
"Army and FC Quick Reaction Force reached at incident site and cordoned off the area. Army helicopters flown for medical evacuation of injured to hospitals," said the ISPR.
President Mamnoon and PM Nawaz Sharif has expressed grief over the loss of life and directed concerned authorities to provide medical treatment to the injured at all costs.
Interior Minister Chaudhry Nisar Ali Khan has condemned the blast and ordered for a detailed report regarding the incident. He further said that those involved in the gruesome incident would not be spared.
Khyber Pakhtunkhwa Governor Iqbal Zafar Jhagra has also condemned the blast, and sympathized with the bereaved families.
Governor said the war on terror will continue until the last terrorist is eliminated. He said the cowardly terror attacks cannot weaken the nation's resolve against the menace. Militants cannot lower courage of nation by such cowardly attacks, vowing to end terrorism from the country soon. He said the war against militancy will continue till ending of every single terrorist.
Information Minister Khyber Pakhtunkhwa Mushtaq Ghani said that emergency has been imposed in Peshawar, confirming that the blast was carried out by a remote control device planted in a vehicle. He said the blast was carried out at a busy market in order to target highest numbers of civilians. He said they are ready to help any sort of to their tribal brothers.
PTI Chairman Imran Khan condemned the blast saying citizens would not accept any such attacks and those who are attacking peaceful enemies of nation. He said culprits would be brought before the justice. He directed the provincial government to provide best medical facilities to injured people in the blast.
Former president Asif Ali Zardari also condemned the blast saying terrorists would not be succeeded in their nefarious aims.
Chief Minister KP Pervaiz Khatakk, CM Punjab Shahbaz Sharif and JUI-F chief Fazul-ur-Rehman have also condemned the attack in strongest words.
"We received 21 bodies of the local tribal people killed in the blast," Turi said, adding that there would be a mass funeral and then a demonstration over the attack. About 40 others were wounded in the blast in Kurram region, near the border with Afghanistan, said Sajid Hussain Turi, member of the National Assembly from the region.
Another Kurram official, Sabzali Khan, said early reports had suggested that a suicide bomber was responsible for the blast.
Ashiq Hussain, who was lightly wounded, was being treated in Parachinar hospital. He said he was purchasing fruits and vegetables loaded on a van when the explosion took place. "There was big bang and dark cloud of smoke and dust I saw before passing out. There was no ambulance, and people had to carry the injured in cars and private pickup trucks to the hospital," Hussain said.
After coming back into his senses Hussain said he saw bleeding bodies, severed limbs and heard cries. "I was just bleeding from my leg," he said. "Thank God I am alive."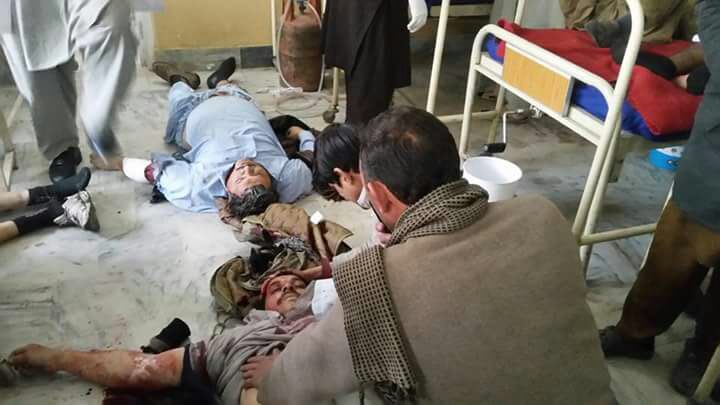 A list of names have been released regarding people who have been killed or injured in the attack.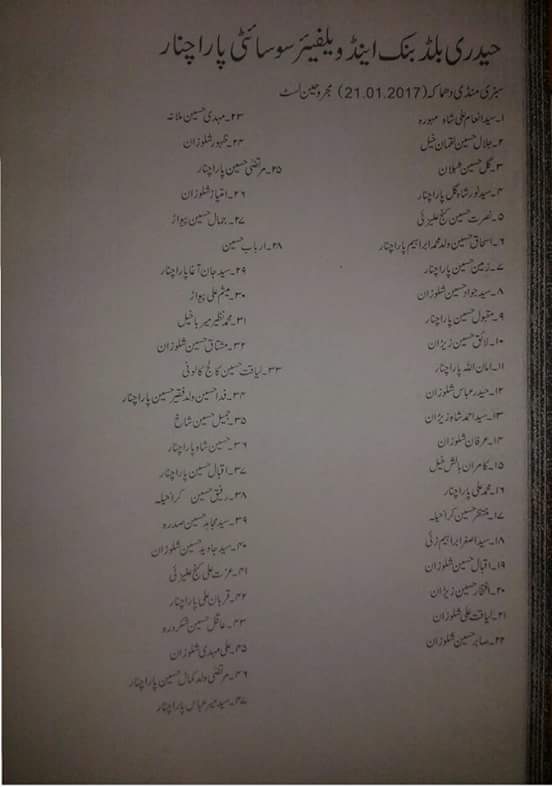 No group has immediately claimed responsibility of the attack.
According to a Shiite leader Faqir Hussain, all the bodies have been brought to a Shiite mosque.
Social media has also reacted to the blast in Parachinar.
Barely 10 hours after taking oath of #USPresident #Trump a powerful bomb explosion at #ParaChinar area.Is it a message sent by some one?

— Kunwar Khalid Yunus (@KunwarKhalidYun) January 21, 2017
#Parachinar Vegetable Market Blast, 23 innocent lives lost. The war isn't over yet #NAP

— WASIM ABBAS (@WASIMSAMI) January 21, 2017
Whn army says they'll disarm local tribes as they hav cleared #Parachinar &such a huge terrorist attack happens .it get hard4ppl2trust army

— meena gabeena (@gabeeno) January 21, 2017
Army said they have secured the area and now they will disarm local tribes. That's why we don't trust Pak-Army #Parachinar

— Hassan Turi (@spin_ghar) January 21, 2017
Just a few days back we were sharing photos of the white beauty(snowfall ) in #Parachinar now that is red with the blood of innocents #pak

— Ramxi Khan (@RamxiKhan) January 21, 2017
The whole nation is saddened by the terror attack at #Parachinar cndnm such inhuman act,thoughts & pryrs r with the victims & their families

— Rubina Ibrahim Zehri (@zehriRubina) January 21, 2017
Pakistani TVs won't have time to cover #Parachinar as Pakhtun are never considered the citizens of this country since day first

— Sanna Ejaz ( سیاله ) (@sanaejaz2) January 21, 2017
Taliban militants have been active around Parachinar in the past, ad the town has also suffered sectarian tension between Sunni and Shi'ite Muslims.
A similar blast at the Eidgah Market in December 2015, killed 25 people and injured 70 others. Parachinar is mainly a Shiite area of Pakistan's Northwestern Tribal Belt.
This is a developing story