The 'Daughter of the East' was the first Muslim woman to be elected Prime Minister of any sovereign Islamic State. A scion of the politically powerful Bhutto family, she was the eldest daughter of Zulfikar Ali Bhutto, a former prime minister himself who founded the centre-left Pakistan Peoples Party (PPP).
Her efforts and struggle to save her father and democracy remain a lasting legacy that is deeply respected among her rivals. The Pakistan government honored Bhutto on her birthday by renaming Islamabad's airport as Benazir Bhutto International Airport
The words that best describe her were, Ginny Dougary in "Destiny's daughter" in The Times (28 April 2007),
"Bhutto represents everything the fundamentalists hate — a powerful, highly-educated woman operating in a man's world, seemingly unafraid to voice her independent views and, indeed, seemingly unafraid of anything, including the very real possibility that one day someone might succeed in killing her because of who she is."
Here are some rare pictures of Benazir Bhutto.
Benazir Bhutto was born at Karachi's Pinto Hospital on 21 June 1953.
Z.A Bhutto introducing Benazir Bhutto to Ayub Khan
Benazir Bhutto with her father, Zulfiqar Ali Bhutto
Benazir Bhutto on the extreme left with her siblings.
"My father was the Prime Minister of Pakistan. My grandfather had been in politics, too; however, my own inclination was for a job other than politics. I wanted to be a diplomat, perhaps do some journalism - certainly not politics." - Benazir Bhutto
"I was a very shy girl who led an insulated life; it was only when I came to Oxford, and to Harvard before that, that suddenly I saw the power of people." - Benazir Bhutto
Benazir Bhutto with Murtaza Bhutto and Sanam Bhutto
"I didn't know such a power existed, I saw people criticising their own president; you couldn't do that in Pakistan - you'd be thrown in prison."
Pakistani People Party leader, Benazir Bhutto, waves V for Victory, 18 April 1986
The wedding picture of Asif Ali Zardari with Benazir bhutto in 1987
Benazir Bhutto with Bilawal Bhutto Zardari
Benazir Bhutto takes her oath in 1988 as the first Muslim Woman Prime Minister of any Muslim State
"I have led an unusual life. I have buried a father killed at age 50 and two brothers killed in the prime of their lives. I raised my children as a single mother when my husband was arrested and held for eight years without a conviction - a hostage to my political career." Benazir Bhutto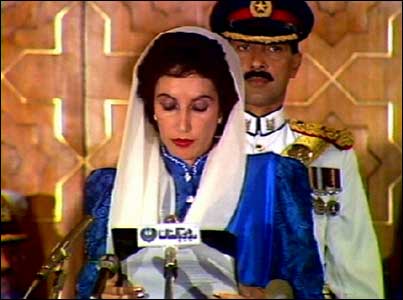 1993, Benazir bhutto is elected Prime Minister for the second time
Benazir Bhutto with her children, Bilawal, Asifa and Bakhtawar.
Benazir Bhutto returns, 18th October 2007
Benazir, minutes from being assassinated